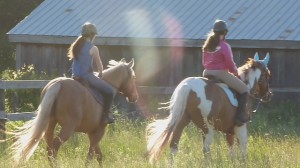 Glenwood Stables offers boarding to riders looking to show or continue learning through lessons and clinics. Our boarders are riders that are committed to advancing their skills through lessons with a strong dressage foundation.
We instruct in arenas and out in the fields, developing well rounded English, Western and dressage horses. Our mission is to give quality riding instruction in a caring and supportive atmosphere.
Boarding at Glenwood is divided into two parts – lesson package, plus board.
Lessons:
$160 plus HST per month for 1 weekly 40 minute private or 1 hour semi-private.
$120 plus HST per month for weekly group lesson.
Box Stalls:
$750 plus HST per month. Includes stall, shavings, daily mucking, daily bucket cleaning, turn-out, feed, free choice hay during the day. Access to all facilities.
Vet and farrier schedule arranged for your horse. Farrier on site for emergencies.
Access to trailer for horse shows and emergencies.
Flexible lesson times and choice of private or group lesson.
Training available on days you cannot make your lesson.
Outdoor Board:
$640 plus HST per month.
Access to facilities, no use of stalls.
Free choice hay, 1 graining per day, shelter and heated water in winter.
If injury occurs and stall is needed there will be an additional fee of $10 per day for use.